http://www.nzherald.co.nz/nz/news/article.cfm?c_id=1&objectid=10837423
Teen's drastic action
6:30 AM Sunday Sep 30, 2012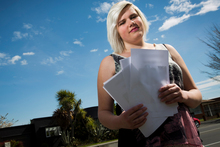 Mikayla Ziebe, 16, is certain of her claim. Photo / John Cowpland
A teenager who claims she was sexually abused as a child has taken the law into her own hands after police declined to take the case to court.
Hastings student Mikayla Ziebe, 16, hand-delivered more than 100 leaflets to Napier houses last week, accusing an elderly man of being a paedophile.
Ziebe's mother, Julie Wakefield, supported the action.
"This is her way of being heard," Wakefield said. "It is her choice and I fully support her."
The letter has four photos of the man, his name and the message: "He is in his 70s, watch out for him."
It was also left in the letterbox of the accused. Ziebe and her mother reported the allegations to Hastings police, which investigated but were unable to press charges because of a lack of evidence.
After four months of counselling this year, Ziebe decided to publicly accuse the man.
"It's horrible and no one will believe me," Ziebe said. "I want them to know I am serious."
Eastern District crime manager detective inspector Rob Jones said police investigated the allegations on two separate occasions and both times fell short of finding sufficient evidence to prosecute.
"Police are satisfied that they have done all they can in relation to this investigation," he said. "The decision not to prosecute was not taken lightly."
He would not comment on people seeking justice outside of the legal system.
The accused man told the Herald on Sunday it was a vicious attack on his family, which they reported to police. He denied the allegations and was overwhelmed with support from his neighbours. "I would be in jail if I was guilty," he said.
Sensible Sentencing Trust spokesperson Garth McVicar said it was a "natural outcome" for people to seek justice when they felt let down by the system.
Auckland Sexual Abuse Help clinical manager Kathryn McPhillips said only 1 per cent of child abuse cases ended in a conviction because the justice system was not child-friendly.
She was surprised victims didn't take matters into their own hands more often.
"For people who were abused as kids, as they age, they think about how other kids can stay safe and it can be a challenge for them to live a good quality of life while they have these ideas that other kids could be unsafe," McPhillips said.
"Until we fix the justice system, it is going to happen more."